Eurovision 2020 The Netherlands
The Eurovision Song Contest 2020 will be held in The Netherlands, after the victory of Duncan Laurence with his song Arcade in Tel Aviv.
Eurovision host city 2020
The host city and dates for Eurovision 2020 still have to be announced. The decision is expected at the end of summer. You don't have to wait for this: book a cancellable hotel in all possible cities.
The dates: May 2020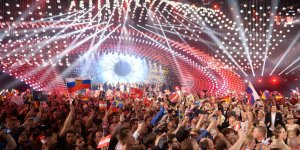 Eurovision 2020 dates are still to be determined.
Tuesday TBA May (first semi Final)
Thursday TBA May (second semi Final)
Saturday TBA May (the Grand Final)
All Jury Finals take place on the day before the TV live shows with the Dress Rehearsals shows in the afternoon before the big night. General rehearsals will start the week before, but these can only be attended by journalists.
Eurovision candidate cities
No less than 9 cities presented themselves as possible candidates for hosting Eurovision 2020 in the Netherlands. Only 2 cities are still in the race.
Unfortunately Amsterdam is no more one of them. Now Rotterdam has possible the biggest chance of getting the show.
Rotterdam
Rotterdam also has all infrastructure for hosting Eurovision 2020. The main concert hall Ahoy is probably more easy to rent for 6 weeks for building the stage than the Amsterdam Ziggo Dome. Rotterdam has many hotels, can be easily reached and has a large hotel capacity.
pre-book hotels in Rotterdam for Eurovision 2020
Maastricht
Not our prefered choice. Maastricht is a beautiful city in the far south of the Netherlands. It's difficult to reach, hotels and accomodation is mostly situated outside the city.