EuroClub, EuroVillage & Euro Fan Café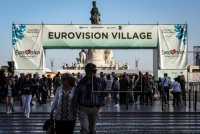 Whether you have those live show tickets or not, there are plenty of opportunities to soak up the songs. Most likely, like every year, Rotterdam will offer a couple of party venues for the all visiting fans.
The EuroClub is the venue for some special parties, the official after parties and performances by participants, only accessible by accredited fans, delegates and journalists. This years venue is the massive Maasilo, and old granarie on the riverside,. The centre of the contest, the Rotterdam Ahoy, is roughly two kilometres away and directly connected with public transport.
The yet to be confirmed Euro Fan Café is set up by OGAE and will offer concerts, parties and special events, open to all fans.
From 8 to 16 May, the Eurovision Song Contest will be felt throughout the city and will be visible with club nights, concerts, exhibitions and sing-along parties all over the city. The EuroVillage will be an outdoor venue with big stage for live performances and big screens where the live shows are broadcasted, located at the Binnenrotte, EuroVillage is free to enter.
Many hotels in Turin for Eurovision are sold out already. So hurry!
Where to stay?
You have watched the Eurovision Song Contest on television as long as you can remember. Ever wondered if you could attend the Finale yourself?
The Song Contest for first timers