Gran Canaria gay guide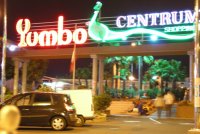 This Spanish island west of northern Africa in the Atlantic Ocean is very popular with European gay tourists for its sunny climate, with good weather almost all year round.
Gran Canaria has beautiful gay beaches and a vibrant gay nightlife in and around the famous very gay Yumbo Center in Playa del Ingles - Maspalomas .
Gran Canaria gay guide
Where to stay?
Make sure to stay in Playa del Ingles if you want to stay close to the gay night life, or in Maspalmoas if you prefer a more relaxed holiday near the beach. In Playa del Ingles are many bungalow parks and apartment buildings. Many guys prefer to stay as close to the Yumbo as possible. There are also many gay men only hotels and resorts. Also the famous Axel hotel group opened a resort, Axel Beach. Please support our website and book your hotel here!
hotels and apartments
Gran Canaria Gay Pride
The gay pride in Maspalomas has grown to be one of the biggest gay festivals in Europe. The festivities last over a week. The visitors are relative young for the Gran Canaria standards. Most parties and events are in and around the Yumbo Centre in Playa del Ingles. There is a small gay parade, some pool parties at resorts around the Yumbo, and parties with performances in the Yumbo itself almost every night.
Gran Canaria Gay Pride