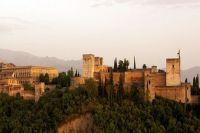 Spain is the most popular gay holiday destination of Europe. Madrid and Barcelona are perfect cities for a weekend break, with museums, sight seeing, shopping and extensive gay night-life in the weekends.
Ibiza is the perfect island for a party week, many of the big party brands travelling around the world started in Ibiza.
Gran Canaria is another Spanish island, this one has nice sunny weather almost all year long and is very popular among gays.
Other beach towns are Sitges, close to Barcelona, Benidorm with many English gay boys visiting every summer, and Torremolinos in the south of Spain.
Cities