Nighttours gay nightlife and travel
Nighttours is your online guide to gay nightlife and travel around the world. We show you the gay nightlife in Amsterdam, Berlin, New York, Sydney and 50 more cities. Plan your prides with our international gay pride calendar. Maybe we can inspire you with a gay cruise, a snow pride or circuit festival.
Things are still uncertain for this year but the travel forecasts look much better. Our motto is plan now party later!
Plan your holidays now, before prices go sky high again. We have recommendations for hotels at all gay travel destinations, with options for free cancellation.
Gay city guides
Gay guides to Amsterdam, Berlin, New York and many more
The Nighttours online gay travel guides are full of personal recommendations and tips from locals. We show you the gay bars, clubs saunas and beaches, and have recommendations on where to stay.
Gay prides and events
Pride calendar 2023/2024
Plan your pride with our LGBTQI Pride and gay events calendar for 2023 and 2024.
Pride calendar 2023/2024
Gay cruises
All gay cruises 2023 / 2024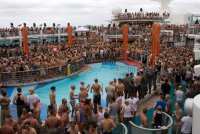 5000 gay guys on one ship? Gay cruises are the biggest floating party weeks in the world. Check out upcoming all gay cruises and guides for first time gay cruisers.
all gay cruises
Gay hotels and resorts
More travel specials
Snow prides, and more travel specials
We created some gay travel specials.
Snow prides and gay ski weeks are booming. Check the calendar and info on gay friendly ski destinations
Snow prides
Our Eurovision special list ESC parties around Europe and all you need to know how to join the live shows and after parties.
Nighttours Eurovision special
Gay circuit events are the biggest gay dance party weekends around the world.
Gay circuit parties
About Nighttours
About Nighttours
The question we are most often asked is: "which gay destination should we visit next time". It was one of the main reasons to create Nighttours.