All Gay Cruises 2021 / 2022
Gay cruises 2021 and 2022
We, Danny and Rollo, creators of Nighttours.com, have made several gay cruises with Atlantis Events and RSVP over the past years. Gay cruises are one of the most fun types of gay holidays.
To be only with gay men on a big ship gives people a lot of fantasies ... but there is much more to a gay cruise than just that! For those who have never been on one we will give some clues what to expect. We also explain the differences between the cruise companies, ships and destinations.
Atlantis is the biggest brand in gay cruises. They organise about 8 large gay cruises every year around the world.
Atlantis gay cruises
Other gay cruise companies
There are several more gay cruise companies, usually organising one gay cruise a year. For lesbians there is the Olivia women only cruise. For gay bears the Cruise4Bears.com cruise (usually they rent part of a ship). In Brazil local gay cruises are organised, but speaking Portuguese might be essential. And there are quite some gay sailing cruises on much smaller boats. We try to list as much gay cruises in our agenda, if we miss one don't hesitate to contact us.
Entertainment on board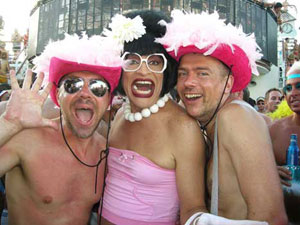 In day time you either go on shore to visit one of the cities the ship is docking, or you stay on board. Most of the guys hit the Sun Deck on top of the ship to relax at the pool, watching other guys and sipping their cocktails. It's like a sailing beach!
As food and drinks are available almost 24/7, ít's hard to keep that just acquired six pack you've trained for. Still you should not skip dinner, which is served in the massive restaurants. It's thé moment to get to know new people. Unlike traditional cruises, the gay cruises do not have a dress code for dinner and no fixed table settings. It's all very informal. So you don't have to be afraid to be stuck with fixed company you do not like, wearing your uncomfortable tux. After dinner, there are many opportunities to entertain yourself. The Casino, movies at the cinema, Atlantis gay performers at the many bars, Broadway style productions at the theatre.... Ooh and of course that cute guy in the cabin next to you....
The parties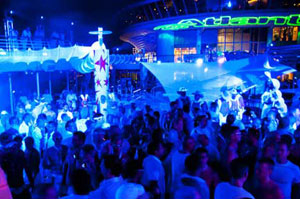 Atlantis Event cruises are the biggest floating gay parties in the world. Every cruise, international top DJ's are flown in to hit the decks during one of the many parties on board. These parties are all themed, and although (again) there's no dress code, you will be surprised how many spectacular costumes are packed and brought on to the ship. So dress up and be part of the fun!
The Dog Tag Tea Dance is the infamous afternoon tea dance in army style. The dog tag you wear makes clear whether you're available or not for "some fun". Or get your sexiest outfit for The White Party or Mardi Grass parties, starting around 11 pm on deck where thousands of guys party deep into the night, on the middle of the ocean. And if you did not have enough dances and drinks when the party on deck stops, you just hit the ships club for the early morning after parties. There are so many different parties in one week, you will be exhausted once you get off board.
Book at AtlantisEvents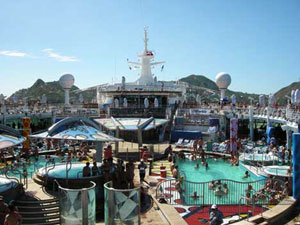 Gay cruising is like a gay pride on a ship. We can strongly recommend to just try one. Like us, we're sure you will be addicted to the phenomenon and will sail again and again. At the right of this page, you will see all upcoming Atlantis Events All Gay Cruises for the coming period, and the All Gay Resorts the company organises too. Booking is very easy. For all details, prices and direct bookings, just check the following link to Atlantis Events
How many guys on one ship did you say? The number of passengers varies per ship, but an average sized ship can carry up to 2500 passengers. One of the biggest of them all, Harmony of the Seas, does an incredible 6500. Staff not included.
Do I have to be a muscle mary to join? No. although many guys come from the so called party circuit, the mix of guys on board is varied, both in age and in type. Is it expensive? Yes and No. Of course it's not cheap to be on such a luxury cruise ship. But .. the prices are in US dollars which is currently very weak compared to the Euro.
What is included? Your cabin, your food (it's like all you can eat), coffee, tea, water, the entertainment, the parties, the trip and all the boys. Drinks are not included, neither are the excursions on shore.
Is it one big orgy? If you want to you can cruise you're butt off. Let's say all the guys are in "holiday mood".... In the end it's all up to you.
I'm not a party animal No problem. Although there many parties on board, if you just want to relax quietly, nobody will push you into things you don't want to. The ships are so big, you can easily enjoy your holiday the way you want.
Any lesbians on board? Men are dominantly represented in these all gay cruises, although there's always a group of ladies enjoying the fun. The cruises are open for everyone who like an open atmosphere: gay, lesbian and yeah... even straight people.
Can I come alone? Sure. You will make many new friends from all over the world: at the pool, at the dinner table, at the gym, during a show or on the dance floor.
Gay cruise ports information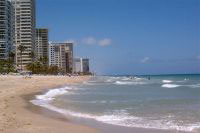 Fort Lauderdale has a large gay scene, with several large gay bars and clubs. A lot of gay in Florida live here. Port Everglades is also the yearly starting point of Atlantis and RSVP Caribbean all gay cruises.
20 gay events, bars, clubs, parties, saunas etc listed on Nighttours - 310 hotels
visit Ft Lauderdale