Atlantis gay cruises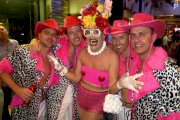 Atlantis is the biggest brand in gay cruises. They organise about 8 large gay cruises every year around the world. Atlantis mostly operate with the A class ships from Royal Caribbean, Celebrity Cruises and Holland America Line. Number of passengers is from 1500 up to 6000. All Atlantis cruises have their famous large parties on deck, with party themes, and guys often make an effort on their outfits.
The Caribbean cruises depart from Fort Lauderdale or Miami and sail usually in late winter / early spring. These are the real party cruises, with 1 or 2 big parties on deck every night. For Americans from Florida it can be cheap to go, so the crowd is relatively young. Not all Caribbean islands are very interesting, but staying on board some of the land days can be fun and relaxing too.
The annual Mexico cruise in October usually departs from San Diego or Los Angeles and sails to Puerta Vallarta. This is same kind of cruise as the Caribbean one, but then of course more a West Coast crowd.
In summer there are usually 1 or 2 Mediterranean cruises in Europe. The crowd on this cruises gets more European. Not that many very young Americans on these cruises as it is more expensive to fly over and these cruises are usually a bit longer (and so more expensive) as well.
With these European cruises and the other cruises Atlantis does around the world (Asia, Sydney, South America or even sometimes Alaska) the sight seeing is also more important beside partying. So guys sometimes actually go early to bed to do a tour in the morning! In general the ships have a mixed crowd of thousands on board, both in ages as in type of men. They range from average guys to muscle mary's, guys in there twenties and older guys. Yeah, there even really old people on board, but you will see these men only in daytime. And be nice to them! :)
Women are less common passengers, but all cruises always have a (small) group on board.