Combine Benidorm with Valencia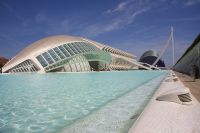 If you want to have more than just sea, sun and boys for your holiday you can combine your trip with a few days to
Valencia
, Valencia is only 100km away, and is a beautiful Spanish city, with spectacular modern buildings and a historic city centre with many nice restaurants.. It's good to have a rental car anyway to get to some of the really nice beaches.
Closer to Benidorm is Alicante. Many cheap flights available to there. There are buses to Benidorm, or take a taxi or rental car.
Where to stay?
Check our hotel page for suggestions on where to stay, or have a look on our hotel map. You can find gay friendly hotels near the gay places.
Benidorm hotel map