Playa del Ingles / Maspalomas gay holiday
The gay part of Gran Canaria is Playa del Ingles in Maspalomas. It's located in the the south of the island Gran Canaria and is known best for it's beautiful sand dunes. It is a very popular gay holiday destination. The weather is all year round quite nice and warm.
It's only a few hours flight from Europe to Las Palmas and relative cheap to go when you look for a beach in autumn or spring. The most popular time to visit is September - November and March - June. In summer families with children take over. In mid winter you can also still go to the beach on some days, but don't expect it to be busy.
Where to stay?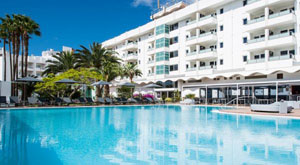 Playa del Ingles consists only of bungalow parks, apartment buildings and hotels. For most guys best place to stay is on walking distance (or better crawling distance!) from the Yumbo.
Staying closer to the gay beach at Maspalomas can also be a good option, as it is only a few minutes by cheap taxi. We do not advise to stay any further, some all in packages put their guests in the middle of nowhere, with long taxi rides to Yumbo or gay beach.
Apartments and hotels