Der Boiler gay sauna

Category:

sauna

Open:

Monday - Sundaydetails

Location:

Mehringdamm 34, Berlindetails

Reviews:

12 reviewsreviews

Tags:

gay

terrace

food

lockers

smoking area

darkroom

private cabins

cruising area

glory holes

steamroom

jacuzzi

dry sauna

friendly staff
feedback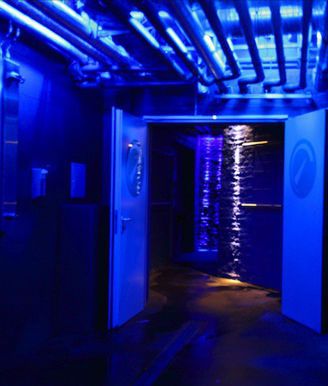 Der Boiler gay sauna
The largest gay sauna in Berlin. This new large gay sauna has immediately become very popular.
write a review
Location
Der Boiler gay sauna
Mehringdamm 34
Berlin
,
Germany
Show map
Hotel near this location
Find a hotel or apartment near Der Boiler gay sauna
When is it?
Monday 12:00–06:00

Tuesday 12:00–06:00

Wednesday 12:00–06:00

Thursday 12:00–06:00

Friday 24h

Saturday 24h

Sunday 12:00–06:00
Visiting Berlin for Der Boiler gay sauna?
Show hotels nearby on the map
gharb


10 months ago
Beautiful design. Huge pool, steam room and cruising area, with lots of action. Pity that there is only 1 sling in building. Clean cabines compared to other saunas that I visited. Definitely worth to revisit.
Jay Pamintuan


over a year ago
It was my first time to go there.. I am Asian from the Philippines and yes I was nervous but the reception guy was so friendly and smiling i really like it. Went to the dark room like a maze and I thought nobody will like me but.. Yes they like me ;) there is one guy who pushed another men when someone is touching me he was like he wants to just be with me.. Quota that day and it was awesome people there. I was nervous but i became confident when Germans liked me :) thanks Boiler Sauna your the best! Sehr zu empfehlen
neron123


over a year ago
I was there on Sunday and Monday afternoon. Surprisingly, on Monday was way better, less people but all were willing to play, no time-wasters or endless walking. On Sunday was pretty OK, there is a lot of action anyway, but you have to be patient as Germans seem to prefer drinking and talking for hours before doing something, at least in saunas. The place is comfortable, clean and tidy. Condoms are for free everywhere but you gotta get your own lubs. The steam sauna is a laberynth itself, a good place to hookup and take your guy to the cabins if you want privacy. Clientele mostly over 30.
Analgay


over a year ago
I went there some weeks ago. I have been to many saunas in Europe , but this is one of the most boring. A lot of empty cabins , and Germans like to sit and talk in the pool,in the saunaroom and the room for smokers. After 2 hours I left. So many nice men, but no action. I go to Praha or Oslo next time.
Kurt


over a year ago
We went 2 times to Boiler, a Saturday and a Sunday evening. Lots of empty cabins. Germans seem to gather for TALKING (!) in the room for smokers or in the pool. Quite much guys but little action. I went there for sex , but Germans did not. PITY !! We go to another town next time. And why can't the barmen be naked like bars in France ?
julien


over a year ago
Best sauna ever! Huge place, very clean, full of cute and hot guys, nice team! Maybe 20€ is a bit expensive but it worth it! Enjoy!
athleticbtm


over a year ago
One of the best in the world...

Norgay


over a year ago
We went there two times during our days in Berlin in January 2014. A big place, clean and a nice staff. I like orgies when I go to a sauna. Not much of that.Missing more dark areas and a darker steamroom. Not much people in the area of thrilling glory holes.Looks like Germans prefer sex for two behind locked cabin doors. A pity.Remove some of the cabin doors so we can enjoy looking at people playing with eachother!
John


over a year ago
Great sauna for relaxing and cruising. Friendly staff. Fair prices for drinks, the venue is clean, free condoms and lube are available. And what I really enjoyed was the different light-themes in the garden, the pool, the steamroom. Unfortunately it was not very crowded when we went (on a Thursday at midnight) but nevertheless we had a great time.
Mr C


over a year ago
Wow - this is the way to do it. Best sauna I've ever visited. Clean, modern and sexy.
Ben Oakleyi


over a year ago
Being 23 and a pretty fit lad I was worried that the place would be filled with old guys. Fuck was I wrong! Lots of horny fit and hung young guys all looking fun. Place is awesome. Mist of the action is in the steamroom and public which I love. I was plowed deep by three lads in there. Got 6 fucks in all in 6 hours. Best sauna I've ever been too. Loved being watched by a crowd while fucking a lad in the sling. Simply the best!!!!!
Gregory


over a year ago
That is one of the best sauna i have ever visited in Europe. very spacious room, two dry sauna, lot of cruising and dark room, spacious jacuzzi, very clean place. in two weeks i visited the sauna 4 times. Best time to go is on Sunday starting 6 pm it gets crowded or after work time in any work day. Avoid going there on saturday nights
Last modified over a year ago by ROLLO | Events, dates, locations and content may be subject to change. Always check with organizer before making travel plans