Gay
Tel Aviv

travel guide
Tel Aviv gay guide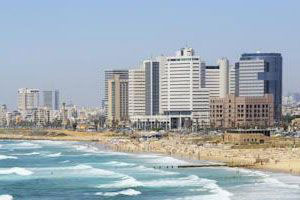 Tel Aviv is a popular upcoming gay destination. There is a lot of variety. From sandy sunny beaches to art museums. From living history to modern architecture. From gay bars to shady cruising parks and steaming saunas.
Tel Aviv gay guide
Hotel search
hotels, B&Bs and apartments
Most popular hotels
most booked at nighttours Tel Aviv
Events
World wide gay prides and events
Map of Tel Aviv
Map of Tel Aviv with bars, clubs and all hotels · see larger map
Featured hotel
119 Ben Yehuda Street
,
Tel Aviv
3 star hotel, 45 rooms, 764 reviews, score 8.4
Ben Yehuda Apartments is set in the heart of Tel Aviv's shopping district, a 5-minute walk from the beach and the marina.
Tel Aviv gay nightlife
There are a number of gay parties in most clubs so you can dance every night, all night. If you'd rather look for a place to chill out there are number of gay and gay friendly bars and cafes and who knows, you even might find your one and only at least for the night.
Reviews by visitors
عبد الكريم

6 months ago
ممكن نتواصل انا معجب في هك موقع رقمي 0523211359 انا من طولكرم
luuk

8 months ago

1. rather expensive - (approx. USD 21, € 19 )
2. really small - (one floor at the underground of building, very little space at the lockers to dress, undress etc, there were 3 more and I had to dry and dress while standing, no private cabins but some army type beds - one on top of the other, with curtains that men remove to watch even if you insist they should go away, really uncomfortable climb on the ladder, tiny dry sauna - perhaps for max. 3 or 4, one small room with slimy mattresses on the floor for group action
3. outdated - (overall furniture, door to steam sauna - hard to open and close as it is inclined rubbing against the floor, it looks and creaks like a stable door, generally looking not particularly hygienic )
4. tiny towels and thinned by old age. you'll end up asking for more (need to pay for that)
write a review
Hotels in Tel Aviv
Visit our Tel Aviv hotel page for information on where to stay. You can also try our online Tel Aviv hotel map to see and book hotels near the gay venues. Please book via the links on this website thanks!
where to stay
hotel map Tel Aviv
Cities nearby