Gay
San Francisco

travel guide
San Francisco gay guide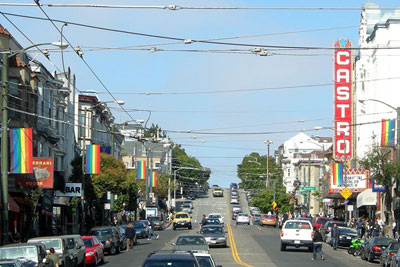 One of the gay capitals of the world, San Francisco is one of the most European-like cities in the US. Enjoy SF, the culture, Alcatraz, the trams and the two main gay disctrics: Castro District and SoMa (South Market) around Folsom Street.
San Francisco gay guide
Hotel search
hotels, B&Bs and apartments
Most popular hotels
most booked at nighttours San Francisco
Events
World wide gay prides and events
Map of San Francisco
Map of San Francisco with bars, clubs and all hotels · see larger map
Featured hotel
181 Third Street
,
San Francisco
4 star hotel, 404 rooms, 153 reviews, score 8.2
Located in downtown San Francisco, this hotel is 8 minutes' walk to Union Square. A full-service, luxurious spa and a full equipped fitness centre are featured.
San Francisco gay guide
We are currently working on the San Francisco gay guide. If you want to help us please contact us!
Photos and videos send in by visitors
Reviews by visitors
cleber takan

3 months ago
Could you tell about the price to get in?

dog-rio

8 months ago
I went there in May last year and going again this year on vacation. Lots of glory holes (I do love them!) and much more. Staff members are always nice with me. Not very young people, but I do prefer mature ones, anyway. For me, it is a paradise.
GG

8 months ago
was in may there and was maybe 1/2 hour or less.
this place is defenetly not a place what i understand under Sauna. ist old no private room and at the day i was there, there was just old guy and allmost empty. so dont wars your time here.
Darren Berg

11 months ago
I went there when I was on vacation. Not a good experience. When you arrive you have to register to get into the club. They require you to show ID and write down all the details including full name etc. On top of that, they were extremely rude when I arrived, giving me what sounded like a reading of my miranda right's about how I had to register and how if I was caught fcking without a condom I would get kicked out. Anyway, I signed up. Didn't have any fun there. Just a lot of mostly old and typically not-so-hot guys. You know, the usual sauna crowd except that there wasn't a single 'cute' guy who is usually the saving grace for me. Maybe I was just unlucky.
write a review
Hotels in San Francisco
Visit our San Francisco hotel page for information on where to stay. You can also try our online San Francisco hotel map to see and book hotels near the gay venues. Please book via the links on this website thanks!
where to stay
hotel map San Francisco
Cities nearby