Gay
Copenhagen

travel guide
Copenhagen gay guide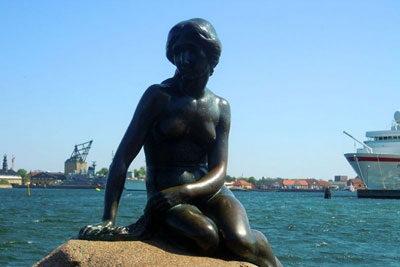 Vilkommen to the city of Hygge (cosiness) and laid back attitude. Copenhagen is often labelled as an expensive city – and yes, prices in bars & restaurants are a bit higher, but so is the standard of what & how it is served. Danes show attention to detail & give service with a smile.
In May 2014, Copenhagen will host the Eurovision Song Contest. 

Copenhagen gay guide
Hotel search
hotels, B&Bs and apartments
Most popular hotels
most booked at nighttours Copenhagen
Events
World wide gay prides and events
Map of Copenhagen
Map of Copenhagen with bars, clubs and all hotels · see larger map
Featured hotel
Colbjørnsensgade 13
,
Copenhagen
3 star hotel, 134 rooms, 3259 reviews, score 7.1
This hotel is 100 metres from Copenhagen Central Station. All rooms include a private bathroom and a 32-inch LED TV with international channels.
Gay life is well integrated into Danish society and being gay is a non-issue. That's probably why you won't find typical gay streets or areas in Copenhagen. Although the gay scene may look limited, Copenhagen gay life is very alive and compact and you'll find well dressed and trendy gays all over the place.The Danes love to meet up and be cosy so going out starts early evenings in cafe's. If you wonder if the spot is popular, just count the number of gay guys smoking on the doorstep (smoking inside is forbidden)Nighttours features a complete guide to Copenhagen gay nightlife. Nighttours list the most popular gay parties, bars, clubs and saunas in this capital of Denmark. Make sure you take a look at out interactive gay map of Copenhagen.
Photos and videos send in by visitors
Reviews by visitors
André

6 months ago
Terrable, rude, crap venue.
guest in the city

11 months ago
That`s a place you should avoid... Dirty, bad smell and fat old guys...
Joe Nagy

11 months ago
This sauna is a filthy run down more or less disgusting. The men are decent but in poor shape. This place is not stimulating so I just left. Now I am glad I did not have sex in Amigo Sauna. I maintained my digniry.
write a review
Hotels in Copenhagen
Visit our Copenhagen hotel page for information on where to stay. You can also try our online Copenhagen hotel map to see and book hotels near the gay venues. Please book via the links on this website thanks!
where to stay
hotel map Copenhagen
Cities nearby