Prague gay tourist guide
Here is a brief tourist guide which might help you get interested in visiting this beautiful city. The gay night life is changing a lot recently. Always check before with the gay venues if they are open, because some of them are quite far away.
prague gay bars clubs and saunas
Travelling to Prague
As the airport is quite far away from town, you are better of taking a taxi. Be careful of the taxi drivers though as they tend to overcharge you. Either take a triple A taxi (AAA) or settle a price with the taxi driver before getting into his car. All international trains seem to stop at the main station (Hlavni Nadrazi). From the station it is only a ten minute walk to Wenceslas Square.
Where to stay?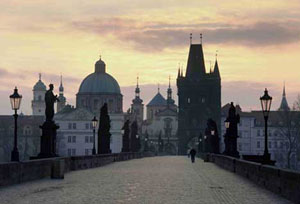 Prague is a very walk able, safe city. If you stick to the tourist centre of Prague, there' is no need to take a taxi or use public transport. Unless off course you are either staggering home after a good night out Prague has a great system off trams and metro's. Using those is pretty much straightforward and reasonably cheap. You will find that you'll barely need to use those unless you got yourself a hotel which is quite some way from the city centre. See our hotel page and hotel map for suggestions of hotels in the centre.
hotels in Prague centre