Gay Mykonos travel guide
Where to stay, party and play in Mykonos
Hotel search
Where to stay?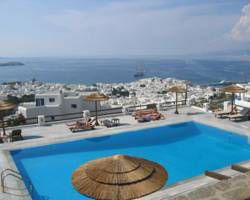 Mykonos has many beautiful hotels. Some of them are overlooking the city. But keep in mind you have to climb a bit up the hill to reach your hotel with those. On our hotel page we have some recommendations for gay friendly hotels and apartments.
Where to stay in mykonos
Beaches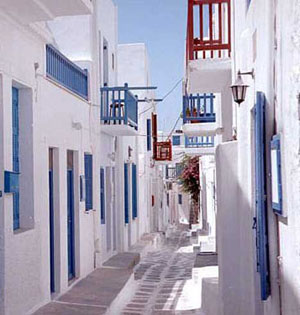 Mykonos has some very nice beaches with blue, clear waters. You can reach them by 4x4 or scooter rental and walk along bumpy rocked roads. Or just get the bus from Mykonos town down to Plati Yalos and then jump on one of the little fishing boats that will drop you off at the individual beaches.
Elia beach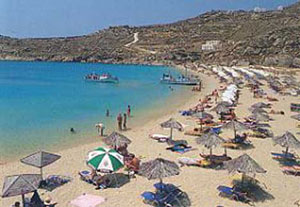 Elia, the last stop on the boats from Platys Gialos, is a large (and partly nude) beach with a mixed crowd of straight and gay sun worshippers. While Elia has become increasingly gay, it has become as crowded as Paradise and Super Paradise. All the gay guys are left on the beach (facing sea) near the cruisy rocks. The other side of the beach offers a beautiful beach restaurant, where you can enjoy an drink or lunch.
Elia beach
Super Paradise beach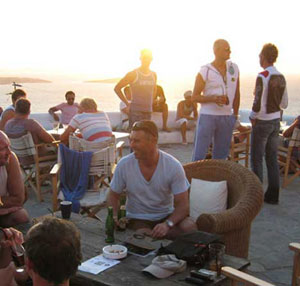 Among gay tourists, Super Paradise has lost its popularity since a couple of years. The beach has a bar and a restaurant that serve food and drinks. The gay section of Super Paradise lies to the right (facing the sea). The single boys tend to stay more to a wind-sheltered area to the far left, where they can enjoy the sun in the nude. Lesbians, gay couples and straights tend to stay more to the right side of the beach. And where gay guys sun and swim, there's plenty of cruising and action further op the rocks.
super paradise beach
Paradise beach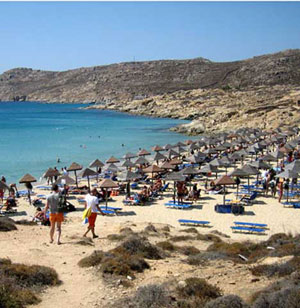 Paradise (at the other side of the hill from Super Paradise) is another beach but a bit more deserted. Both are reachable via ferry or taxi and there is a bus service to Elia from Mykonos harbour.
Gay night life
Mykonos has some nice gay bars. Also some hotels are popular hang outs for end of afternoon sunset drinks. Some bigger dance parties are held in clubs a bit out of town. Be safe getting home if you rent a scooter, the roads are dangerous.
gay bars and clubs
Boat trips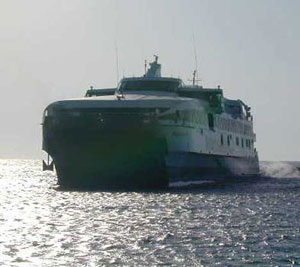 The boat trip from Piraeus to Mykonos lasts 6 hours and the trip usually includes the islands Syros and Tinos. The voyage from Rafina to Mykonos lasts 5 hours and the trip usually includes the islands Andros and Tinos. Apart from ferries, there are hydrofoils and catamarans that connect Rafina and Pireas with Mykonos. The connections are daily but subject to weather conditions. However, we can recommend these as they cut sailing time by half . But if you really want to be quick, just take the plane. It will take you half an hour from Athens airport so you'll be sure your in the sand with your butt before you can say 'suncream!'
Travel combinations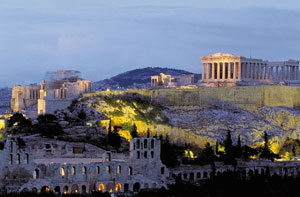 Combine your travel to Mykonos with Athens, do a couple of days of sight seeing there, experience the Greek gay nightlife, and then do the beaches of Mykonos. The island Santorini makes also a beautiful combination, it has less gay night-life but is very nice place to relax.