Marrakech gay travellers guide
Marrakesh is one of the 4 so called kings cities and the most popular city in Morocco to visit.
Marrakech is located in northern Africa. It's summers are very hot, winters not that cold but rainy. So best time to visit is Spring, and late September till early November. You can combine Marrakech with a few days in other cities, or even a night in a tent in the Sahara dessert. From Marrakech you can also do day trips to the coast or Atlas Mountains.
Old town or New Marrakech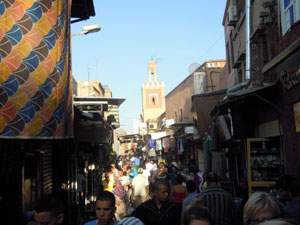 The Medina, the old historical part of Marrakech is still completely surrounded by it's old city walls. In some parts of it you get the idea if you went back to the old times. It is a magical place. The centre is the big square, Jamaa El Fina. This square is very lively from end of afternoon, with food shops, terraces, and you can go on a photo with monkeys or snakes ... The big square is also on the main road, here you can take a taxi to the new city or other places. Most part of the Medina has only little alleys, where no cars can come.
Riads and hotels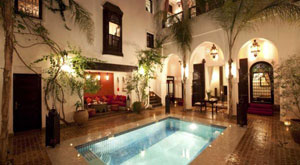 A riad is a traditional Moroccan house or palace with an interior garden or courtyard. Many old buildings have been restored to their former glory and are now used as hotels and restaurants. The hotel riads often have 5-20 rooms only. There are several gay-friendly riads in Marrakech. Many are very beautiful. The city itself has a very good atmosphere, but can be experienced as busy. So it might be a good idea to invest in a bit luxurious place to stay, for relaxation after a busy day. Hotels often don't allow local visitors. If you plan to have those make sure to book a private apartment or one of the big 5star hotels where you can enter more discrete. See our hotels page for more information on where to stay.
Riads, hotels and apartments