Gay Düsseldorf visitors guide
Düsseldorf gay guide
Dusseldorf gay guide
Where to stay in Dusseldorf?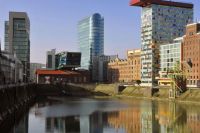 Best area to stay is the Stadtmitte. Here you find the gay bars, clubs and sauna on a close walking distance, and you are in the middle of all the shopping. See our hotel pages for more information, maps and recommendations.
Hotel recommendations and map
Gay bars, clubs and saunas
Here is a list of gay bars, clubs and gay saunas in Dusseldorf. Have you been to any of these places? Please write a short review!
Gay bars and cafes Düsseldorf 2021
Gay bar and cafe in the Dusseldorf Altstad. For breakfast, lunch and beer!
Small gay cafe and bar in the old city center of Dusseldorf.
Gay dance clubs
Gay bar / club in Dusseldorf with different theme parties each night. like 80ies and 90ies.
Gay sauna
Phoenix Gay sauna in Dusseldorf, with 120 lockers / people capacity. Facilities include a wet sauna, dry sauna, a whirlpool more...
Gay dance parties
Gay pride and events in Düsseldorf in 2021
The Christopher Street Day / gay pride in Düsseldorf offers a pride parade and street party at the city center. Check out their agenda for other gay parties and events during the pride weekend more...