Visiting Bogota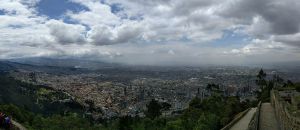 Bogota is a very typical South American city, it's large, busy, and in general not very pretty. However the old city is beautifully restored, and the tourist area has become very green and pleasant. It is really worth a visit!
When planning a visit to Colombia do about 4/5 days Bogata, and make sure it includes a Friday and Saturday for it's amazing (gay) nightlife.
Bogota is located on a high altitude, 2600m above sea level. Don't plan too many activities on the first 2 days of your visit, as you will easily loose your breath. Because of the high altitude the weather is very mild, and the nights can be even quite cold.
Where to stay
Bogota is a very large city. Make sure to stay in one of the nice areas. These are very modern and safe.
The best parts to stay in Bogota is the area around Parque 93, and the area Zona Rosa. Here you find great hotels (very affordable still for tourists), fancy restaurants and shopping malls with all designer brands.
Hotels, apartments and maps