Benidorm gay guide
Benidorm is a Spanish beach town near Alicante and not far from Valencia. It is one of the most well known beach destinations in Europe. Benidorm has quite a large gay scene with many small bars. Most visitors are tourist and most of them English. The gay bars are situated in the Old Town.
Benidorm gay nightlife
Spain welcoming tourists after 1 July
Spain is open to travel again! After 1 July foreign travelers can visit Benidorm. Terraces, bars and restaurants have been reopened, under several safety restrictions.
hotels
See our hotel page for maps and suggestions on where to stay in Benidorm
Where to stay?
Please support gay businesses
Combine Benidorm with Valencia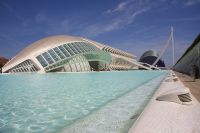 If you want to have more than just sea, sun and boys for your holiday you can combine your trip with a few days to Valencia, Valencia is only 100km away, and is a beautiful Spanish city, with spectacular modern buildings and a historic city centre with many nice restaurants.. It's good to have a rental car anyway to get to some of the really nice beaches.
Closer to Benidorm is Alicante. Many cheap flights available to there. There are buses to Benidorm, or take a taxi or rental car.
Where to stay?
Check our hotel page for suggestions on where to stay, or have a look on our hotel map. You can find gay friendly hotels near the gay places.
Benidorm hotel map
Featured hotels
Combine your trip
Valencia is the 3rd biggest city of Spain. You can compare it a bit with Barcelona, old buildings combined with modern architecture and a beach next to the city. Valencia is way less touristic, but they are working on that. The gay night life is only happening in the weekend. It is a great city for a weekend city trip.
110 km from Benidorm
Valencia Spain
Ibiza is the party island close to Barcelona. You can fly there or travel by boat. The island is famous for it's massive parties. Ibiza town is a very nice old town, with nice restaurants, terraces and small gay bars. The big parties are usually more mixed.
140 km from Benidorm
Ibiza Spain
More cities:
Palma de Mallorca
, Spain, 270km
Granada
, Spain, 340km
Sitges
, Spain, 340km
Madrid
, Spain, 370km
Barcelona
, Spain, 370km