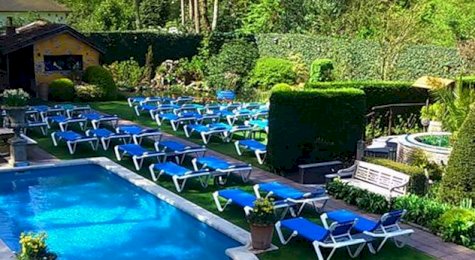 photo by Kouros Sauna
Kouros Sauna
Gaysauna 15km out of Antwerp! Especially on Sunday afternoon full of guys. Nice summer days popular for their outside garden.
gay
terrace
food
lockers
smoking area
darkroom
private cabins
cruising area
glory holes
steamroom
jacuzzi
dry sauna
swimmingpool
hot bartenders
friendly staff
Kouros Sauna details
Monday

12:00 - 00:00

Tuesday

12:00 - 00:00

Wednesday

12:00 - 00:00

Thursday

12:00 - 00:00

Friday

12:00 - 00:00

Saturday

12:00 - 00:00

Sunday

12:00 - 00:00

From 1 Mayt till 31 of August Saturday and Sundays from 11.00 till 01.00

Kouros Sauna
Botermelkbaan 50, Schoten
Antwerp
send feedback
Hotel near this location
Find a hotel or apartment near Kouros Sauna
Visiting Antwerp for Kouros Sauna?
Reviews on Kouros Sauna
gregory


over a year ago
kouros blijft de mooiste sauna van België. Vooral in de zomer is het heerlijk vertoeven in de mooi aangelegde en onderhouden tuin hierdoor is het in de winter meestal rustig in vergelijking met de zomerperiode.
Deze zaak verdient absoluut ook een pluim vanwege het zeer vriendelijk en behulpzaam personeel. Vooral die blonde barman is uiterst vriendelijk en behulpzaam.
Ik kom er altijd met plezier.
Jos


over a year ago
Al jaren kom ik in naar tevredenheid in Sauna Kouros. Recent was ik er weer. Waar ik van geschrokken ben, zijn de prijzen. Op de menukaart, zag ik dat de omelet, fors duurder geworden is, nl 10 euro. Toen ik deze om 17.00 wilde bestellen, was dit niet mogelijk, maar pas om 18.00. Ondanks de duidelijke uitleg van de medewerker, in mijn ogen is dit niet klantvriendelijk.
Abel


over a year ago
geweldige sauna . heel vriendelijk personeel super vriendelijk mag ik wel zeggen. heel gevarieerd publiek van jong tot ouder , dus ook voor de ouderen veel te beleven. schoon en goed onderhouden.
Events, dates, locations and content may be subject to change. Always check with organizer before making travel plans