Gay Sao Paulo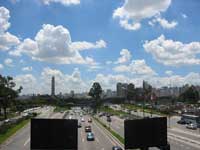 The area with the gay clubs is Jardins. Here you will also find the international flag ship stores, especially on the Rua Oscar Freire and the corner with Rua Augusta. This is the place to shop, to see and to been seen.
If you're done with your shopping, and is sunny weather, have a walk through the Parque Ibirapuera. It is huge and a nice place to watch the Brazilian boys.
Gay nightlife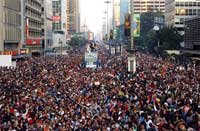 It is said that Sao Paulo has the best gay night life of Brazil. You can find many cool bars and clubs around town. However, the scene is evolving quite swiftly, and venues come and go.
Just ask a local what is happening when you're there. But remember, most people do not speak English, which means you need to 'sign language' to communicate.
Many bars get going about 01:00 while the clubs start at 03:00 and close about 07:00 when the sun comes up. It's Latin America!
Bar system
In Brazil upon entering a Bar or Club patrons are 100% ID checked and given a paper or plastic drink card. It functions as a tab in all actuality since no cash is exchanged between patron and bartender to prevent theft and/or embezzlement. At the end of your visit patrons must line up to pay entrance fees and associated bar tab at a row of glass enclosed bank teller like cashiers in exchange for an exit receipt stating all charges paid and then exit after surrendering receipt to the bouncer. One must take care not loose the card! More sophisticated bars/ clubs will have a card similar to a hotel key card which is swiped by the bartender upon ordering a drink. The charges are added electronically.
Hotel search
City: Sao Paulo
gay bars, cafes and pubs
Gay clubs
Gay parties, circuit parties, after parties, etc
ABC Bailao
Rua Marquês de Itu, 182 - República
Gay party for 50+ and there admirers. Very traditional.
23:00– late, wed-thu 21:00– late, sun 21:00– late
Lions Night Club
Avenida Brigadeiro Luis Antonio 277 - 1º andar
The main night for this venue is Friday night. It is a gay bar with a party atmosphere.
[...]
fri 00:00– late
The Week
Rua Guaicurus, 324 - Lapa
The biggest gay dance club in South America with two dance floors and huge open air area with pool.
[...]
sat 23:59– late
Gay cruise bars and clubs
Gladiators Club 1
Rua Dr. Penaforte MENDES, 259, Bela Vista
Nice gay cruise club, even not always full.
mon-sun 16:00–23:00
Gladiators Club 2
Rua Amaral Gurgel, 253, Centro
Nice gay cruise club, even not always full.
mon 16:00–23:00, wed-sun 16:00–23:00
Upgrade Club
Rua Santa Isabel 198
Gay cruise club, with modern design
wed 12:00–00:00, thu 17:00–00:00, fri-sat 17:00–05:00, sun 14:00–00:00
Gay play, fetish and cruise party
Clube dos Pauzudos
Rua Dr Veiga Filho,802, Higienópolis
Weekly gay play party. It is on Tuesday and Friday, however Friday is the best day
tue 19:00– late, fri 23:00– late
Gay and regular restaurants
Farol Madalena
Rua Jerico 179
Farol Madalena is a mix of bar, restaurant and live song pub directed to the GLS public.
mon-sun
If you know more gay (minded) places, add here