Hotel for Miami
Miami South Beach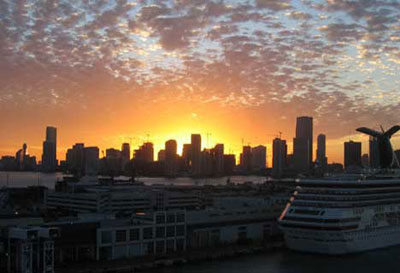 Miami SoBe is a beautiful place in Art Deco style. It has a real Latino vibe, Spanish is next to English the key language. Weather is good almost all year round. Life is outside: during day time at one of the beautiful white beaches. At night at the terraces on famous Ocean Drive.
Where to stay in South Beach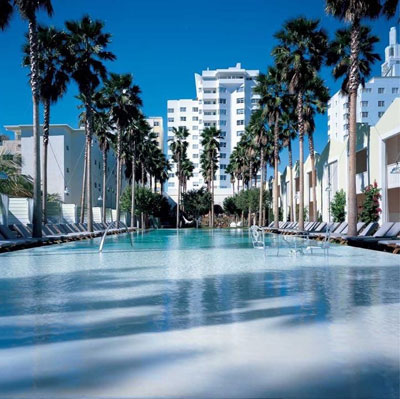 South Beach is a separate part of Miami. It is a very long, narrow island along the coast. When visiting Miami you really should stay in South Beach .
In general in US transportation is by car, but in Miami South Beach you can walk to most places. But then you have to take a hotel in the centre part.
Ideally stay somewhere near the beach between 12th and 17th Street. Then you are near Lincoln Road Mall, the shopping street / outdoor mall. It has many shops, terraces and restaurants. The gay clubs are nearby, the gay beach is at 12th Street.
Hotel recommendations and map
Gay beach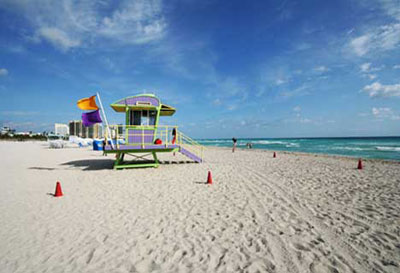 The main gay beach is on Ocean Drive at the end of 12th Street. You can't miss the rainbow flag high above the white sand and all the cruising muscle guys how are showing of their taint and their latest Prada swimming trunks. Across the street there's a cocktail bar where the boys end after a day at the beach.
Nude sun bathing is only prohibited at Haulover Nude beach, north of Miami Beach. It will take you half an hour by car, but it is worth it.
SoBe nightlife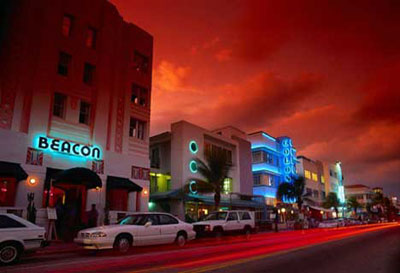 Miami SoBe has lost some of its glance of Florida's gay hot spot. Many gays have moved to nearby Fort Lauderdale and South Beath has been taken over by the RnB scene the past years. Still there is an interesting and happening gay nightlife for those who spend a long weekend. Some bars have theme nights every day (like Score and Twist) and gay (friendly) parties happen frequently at some specific nights at one of the normally straight clubs. And be sure you look at your best...
Bars clubs and the gay beach in Miami
gay bars, cafes and pubs
Gay clubs
Discotekka
950 NE 2nd Avenue Miami 33132, 33132, Downtown Miami Miami
Latin/black weekly gay party usually on Saturday in Downtown Miami, check their website for events and actual party dates.
sat 22:00–05:00
Score
1437 Washington Ave, 33139, Gay and shopping area
Score has moved venue. The new one is closer to the gay beach.
mon-sun 15:00–05:00
Twist
1057 Washington Avenue, South Beach
Twist is actually seven bars in one with each bar having its own unique atmosphere and décor.
[...]
mon-sun 13:00–05:00
Gay saunas and bath houses
Club Aqua
2991 Coral Way, 33145, Coral Way Miami
Gay men only sauna / bathhouse with gym, locker rooms, private cubicles, steam, jacuzzi, outdoor patio & pool.
mon-sun 24h
Big gay events
Events
If you know more gay (minded) places, add here