Miami South Beach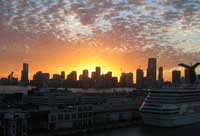 Miami SoBe is a beautiful place and not in comparison to other parts of the USA. For a start, you feel the Latino vibe here; Spanish is next to English the key language. Life is outside; during day time at one of the beautiful white beaches, at night at the terraces and on Ocean Drive, the main grid at the ocean.
Gay nightlife is still alive, although the black RnB scene somewhat has taken over SoBe the past couple of years. This does not mean the place is not interesting enough to spend a long weekend (in combination with Orlando or Key West). Just enjoy the glitz and glamour for a couple of days. And maybe you bump into Gloria Esteban (if you still recognize her...).

Gay beach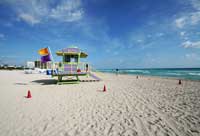 The main gay beach is Ocean Drive at the end of 12th Street. You can't miss the rainbow flag high above the white sand and all the cruising muscle guys how are showing of their teint and their latest Prada swimming trunks. Across the street there's a cockail bar where the boys end after a day at the beach.
Nude sun bathing is only prohibited at Haulover Nude beach, north of Miami Beach. It will take you half an hour by car, but it is worth it.
SoBe nightlife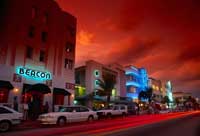 Miami SoBe has lost some of its glance of Florida's gay hot spot. Many gays have moved to nearby Fort Lauderdale and South Beath has been taken over by the RnB scene the past years. Still there is an interesting and happening gay nightlife for those who spend a long weekend. Some bars have theme nights every day (like Score and Twist) and gay (friendly) parties happen frequently at some specific nights at one of the normally straight clubs. And be sure you look at your best...
Bars clubs and the gay beach in Miami
Hotel search
City: Miami