Madrid gay nightlife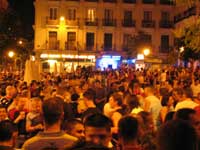 The main gay area is in the neighbourhood Chueca. It is remarkably compact, with virtually every gay establishment either on Plaza Chueca (at the Chueca Metro stop), or a block west on Calle Pelayo.
In day time you can shop till you drop, hopping in and out designer outlets or some alternative street gear. Tired? Try to grap a chair and table at one of the many tables on Playa de Chueca, where the local guys hang around. In the evening you'll find plenty of trendy restaurants, where you can enjoy typical Spanish cuisine. Late at night, the crowd moves from the restaurants into the bars and clubs, for a long and hot night out.
Gay xbars and Cafes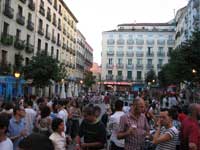 Plaza del Chueca and Calle Pelayo are the centers of all gay excitement. A nice place to start is Troyans, a large bar with a friendly crowd. LL Bar gets popular later in the evenings. Madrid's Eagle is just a few blocks down. When back on Chueca Square, try Clip Bar. Within a few blocks in each direction a number of popular spots hide away, including Black & White (young crowd) and Rimmel(young too).
gay bars
Gay cruise bars and saunas
Cruising Bar draws an after-work crowd that usually lingers until the wee hours. A few blocks away, near Plaza de los Cibeles, you'll find Liquid, which is very popular. The leather crowd favors New Leather Club, Hot Bear's Bar, and Copper.
cruising and saunas
Clubs and parties
Clubs are hot and start very late in Madrid. Popular clubs in Chueca are Escape (young crowd), Mito, Sunrise and Sachas (Chueca's largest). Bigger clubs are found outside Chueca. The Shangay Tea Dance on Sunday nights at Cool Club is Madrid's biggest gay dance party. Strong Center is also popular, mostly for its Saturday night scene.
gay clubs and parties
Gay saunas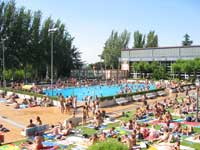 There are many saunas in Madrid, but the local guys don't seem to be very sauna minded. It's probably too hot outside all the time. so mostly tourists are found inside the tub...
Where to stay in Madrid
Most of the gay places are located in Chueca. So best to find your hotel nearby!
More info
Madrid gay pride / Orgullo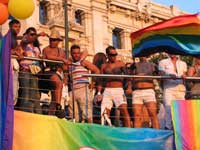 Gaypride in Madrid is one of the best and biggest gay events in Europe. Every year more guys come there to party!
gay pride Madrid
Hotel search
City: Madrid