Lisbon gag guide
Lisbon has a sparkling night life for gay and lesbians. Great bars, clubs and typical fado-cafes are to find in the oldest part of Lisbon: Bairro Alto. But don't forget the beautiful beaches and the cultural richness of Portugal's capitol.
During the day: the beach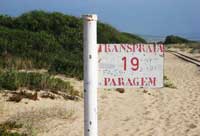 Around Lisbon you can find many beautiful beaches. The best gay beach is south of Costa de Caparica, 15 kilometers south of Lisbon.
Behind the beach is a very large cruising area; usually very crowded from 4pm.
Gay nightlife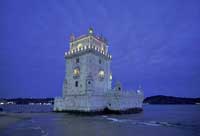 The gay neighbourhoods of Lisbon are Bairro Alto and west of it, Principe Real. Here you can find many nice bars, clubs and restaurants.
As night-life starts late, first enjoy delicious food and wine in one of the traditional restaurants in Bairro Alto. Then move to one of the cafés or bars for a drink and meet new friends. After midnight clubs start to live up and the night crowd find its way to the clubs and bars.
Lisbon has grown famous for its night-life. It has that well-siesta-ed Mediterranean vibrancy, where things are only just getting started at 2am, and the bars stay open for, well, nigh-on forever.
The Friday and Saturday night in Lisbon begins at midnight in the Bairro Alto. After dinner, the guys go to one of the many bars. At 2 am everone moves fro the bars and cafe to one of the clubs in the neighboorhood.
After fragil at 3.30 A.M. is time to go to one of the best discos in Lisbon (Lux). It is a mix place, specialy down-staires, don't miss it. You have to take a cab to go to Lux, it's not in the neighbourhood of Bairro Alto. If u are addicted to clubs and have much energy to spend, go to Kremlin afterwards .
The real gay clubs are Trumps or Finalmente.
The main gay nightlife takes place in an old part of the town called "Bairro Alto" and "Principe Real". Both are very close to one another. You can find many small bars, cafes and restaurants here. The area is very busy on Friday and Saturday after midnight.
Hotel search
City: Lisbon