Istanbul gay tourist guide
Istanbul is a very big city. Fortunately many of the tourist places are close to each other.
Gay night life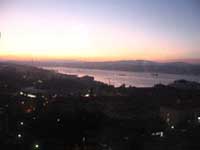 Gay night life in Istanbul changes a lot. Places come and go all the time. Most gay bars and clubs are located near Taksim Square.
On the street many Turkish str8 guys walk hand in hand and hug each other. However most gay guys are not openly gay. Some gay places are really busy, but the guys are discrete.
Many guys speak some English, and tourists area very popular for Turkish guys to meet.
Online gay meeting sites like gayromeo are officially blocked in Turkey by the government. Of course there are ways to connect anyway. Ask locals online before how to get sites like that running on your mobile or laptop before you go there.
Gay bars and clubs
Be safe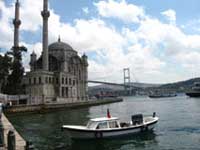 Istanbul is quite a safe city, there is police and guards everywhere. But of course you have to be a bit careful.
Do not follow people who call out to you in the street and promise to take you to what they refer to as a 'gay bar'. It is very likely that this is a scam where you'll be taken to a 'pavyon' (a 'tavern', so to speak) and be charged astronomical prices for services that you didn't even request.
Hamam
The quintessential Istanbul experience that is the hamam (the Turkish bath) can be very alluring and fulfilling. The homosocial environment of a hamam is almost always a very homoerotic one.
Therefore, hamams are very good for cruising. However, the code word here is discretion, because sexual activity in hamams is strictly forbidden --even in the ones that are listed as 'gay' hamams-- and if you're caught in the act, you're likely to get into a lot of trouble.
The truth of the matter is that there is no exclusively gay hamam in Istanbul, even though you can easily cruise men, find quick action or join in on an impromptu group wank. Oh, and, you can also use the hamam for its primary purpose and actually get clean.
Where to stay
Most gay bars and clubs, the shopping street, and many trendy restaurants can be found near Taksim Square. Check our hotel page for suggestions and an online hotel map of Istanbul.
Some hotels are very strict in bringing 'guests' to the room. So if you have intentions that way make sure you book a large hotel where you are more anonymous, or book an apartment to have more privacy. See our hotel page for suggestions.
Istanbul hotels and apartments
Hotel search
City: Istanbul