Dubai Gay Guide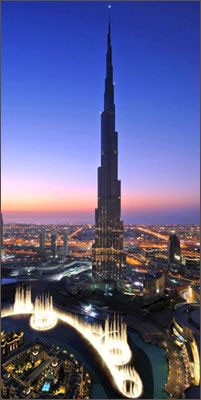 Dubai is a central airline hub which is becoming more and more popular with tourists. The city is booming and massive skysrapers are towering up. The Burj Khalifa is the current winner in this race for the stars as the highest point of the world. The observation deck is a popular tourist attraction, like the beaches and Arabic architecture. Dubai has been called "shopping capital of the world", so many exclusive malls tempt the customers to grab their (often loaded) wallet. 
Although homosexuality is 
officially
 forbidden, gays can enjoy private gay life in relative comfort compared to other countries in the region. However, showing gay affection in public can lead to penalties or prison, so be careful. Locals claim that Dubai has a interesting underground gay scene. Just ask around... 
Zinc at the Crowne Plaza 
is full of cabin crew, so you are very likely to run into gay people there, especially on Thursday nights.Hotels and apartments
Hotel search
hotels, B&Bs and apartments
Most popular hotels
most booked at nighttours Dubai
Map of Dubai
Map of Dubai with bars, clubs and all hotels · see larger map
Featured hotel
Port Saeed, next to Deira city center
,
Dubai
118 rooms, 1871 reviews, score 8.5
Featuring an outdoor pool and free high speed WiFi in all areas, Flora Park Deluxe Hotel Apartments offers modern apartments in Dubai Creek.
Help us by adding gay (minded) places
add here
Reviews by visitors
No reviews yet. Please be the first to write one!
write a review
Hotels in Dubai
Visit our Dubai hotel page for information on where to stay. You can also try our online Dubai hotel map to see and book hotels near the gay venues. Please book via the links on this website thanks!
where to stay
hotel map Dubai
Cities nearby