Brussels Capital of Europe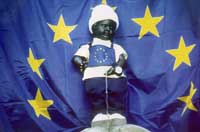 Brussels is the capital of Europe and therefore attracts loads of foreigners to this city. Weekdays tend to be very busy. But this means you can find a good deal on your hotel over the weekend. La Demence (in Fuse) has put Brussels definitely on the map of gay party people from all over Belgium, France, Germany and The Netherlands. But there is more to discover
Gay parties
Although La Demence is only held once every month, this does not mean you can't dance with your top off on a regular weekend. There are several parties organised once a month, including Hunkut and Dansez-vous français? The small club Nation is open every weekend.
Be aware that sunday is the big night out in Brussels, with several big parties and clubs having weekly 'gay and friendly' night. The YOU is the place to go on Sunday evening to dance. It is a mix of people and a mix of music. Even the decor is a mix of 70s and 90s. If you like your Sunday to be a bit calmer or maybe a bit earlier, check out the tea dance in Smouss.
Clubs and parties
Gay bars and cafes
The gay bar scene is mainly situated behind the Grand Place (the major tourist attraction). Bars like La Belgica and Homo Erectus make sure you can drink and meet guys all night long. For guys who are more into a darker environment (and looking for a shag), Duquesnoy makes sure yoú'll find what you want....
Bars and cafes
Tourist stuff
Brussels has lots of tourist attractions. Most known are the Grand Place, Manneke Pis and the Atomium
The old centre is for most tourist the first stop. The Grand Place in the middle of the old town is beautiful and protected by the UNESCO. On one side of the market City Hall is the biggest monument. Right across the 'Broodhuis' is the second biggest monument. A few steps of Grand place one will find the most populair and smallest monuments of Brussels. Yes the Manneke Pis is not as big as his reputation. But worth a few steps off.
Outside of the centre, the Atomium is built near the expo centre. It was built for the 1958 World Exposition and should have been demolished. After 50years it still stands and is recently removed. Inside an exhibition, a restaurant and an amazing view is waiting for you.
South of the city center the Ixelles and St Gilles neighbourhoods are an oasis a peace and quietness. Built mostly end of the 19th century and first half of the 20th century, these parts of town have a lot of Art Nouveau and Art Deco treasures to show.

Shopping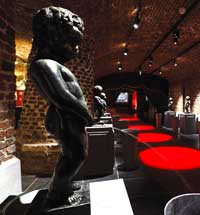 Brussels is a city of shopping. Only in the center one can find 3 main shopping districts: Rue Neuve, Lousie and Dansaert.
Rue Neuve is were you will find the big chains like ZARA, H&M, FNAC, SportsWorld etc. Especially during the Sale's period, it can be very busy in Rue Neuve as it is no big boulevard. No excitement, but if you forget underwear or toothpaste or anything, here you will find it.
Louise is an uptown area with designer boutique's. Names, names, names ….is what you will find here. Big names that is: Gucci, Versace, Boss etc.
The Dansaert area is the new fashion district. No big names, but the small shops with the hippest fashion in Europe. Not only fashion, but also designer deco and designer food are here to be found.
Where to stay
There are several options were to stay. For sure around Grand Place is a good option. Lots of hotels are situated here and it is close to the gay bars and sauna's. But also the European Neighboorhood is a good option, as you can find good deals for weekend nights here. A third option would be the Ixelles –/ St Gilles area. It is close to La Demence and there is lots to see and do.
Hotels in Brussels
Brussels has one major airport (Brussels International) and one secundairy airport (Brussels South Charleroi Airport) used mainly by lowcost Airlines as Ryanair and Wizzair.
By Air

Brussels has one major airport (Brussels International) and one secundairy airport (Brussels South Charleroi Airport) used mainly by lowcost Airlines as Ryanair and Wizzair.
Brussels Airport is located 25 min Northwest of the city centre. There are up to 4 trains an hour that take 25min to bring you right into the centre for less then 3€. The Airport Express Bus is a good option is you need to be in the Euro-Borough.
Brussels South airport is located +/- 1 hour south of town, with an Shuttle-service to Brussels Midi Train Station.
By Train

Another good option to come to Brussels is the train. Brussels has excellent train connections to major cities like Amsterdam, London and Cologne with TGV, ICE and Eurostar. These trains all arrive at Brussels Midi- Zuid train station, which is located 3 metro stops south of the city centre.

Hotel search
City: Brussels