Barcelona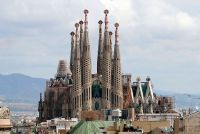 Barcelona is the second city of Spain, located on the coast of the Mediterranean Sea. Barcelona has become very popular with tourists from all over Europe.
The capital of Catalonia hosted the 92 Olympics and has seen a huge face lift ever since. From being an old, neglected city, it has turned into one of the trendiest places on the continent. And with Sitges nearby, it has become a gay heaven as well.
Barcelona gay nightlife
The beautiful city of Barcelona is an attractive gay destination. It has a vibrant gay scene with many clubs, bars, and restaurants, especially around L'Eixample and Gràcia.
The area of the Eixample is also known as the "Gayxample". It's located very central, only 5 minutes westwards of Placa de Catalunya.
As locals have dinner very late (around 9.30 PM), night life starts very late in the evening in Barcelona. The night life is mostly concentrated on Fridays and Saturday.
So for a weekend full of boys, beach, shopping and culture, Barcelona is your kind of town!
Gay bars in Barcelona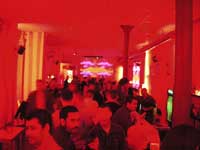 Most of the boys start at one of the bars like Punto (bit older guys), Dietrich (the young and trendy ones), Z:eltas or Atame (both very trendy).
Making contact could get a bit problematixc. Younger people have learned English in school but language still can be a problem. But fortunately Spanish people are very good in body language. Most clubs have darkrooms and bars big toilets ;)
Bars and cafes
Clubs and gay parties
Around 2.30 hours, the boys move to one of the clubs. Metro Disco is a popular disco, located in a large basement.
Gay clubs and parties
Gay saunas and Cruising
For guys who are more in a cruisy mood, Barcelona has some offering too. The Bear Factory and the SM 55 are two bars for guys who are into bears or leather. They have regular sex parties.
Guys who prefer more of a wet environment should go to one of the local saunas. Casanova is just around the corner of most of the bar in Eixample, although it could use some redecoration. Other saunas are Condal, Corinto and Thermas. This last one has a lot of hustler boys.
Cruise bars and gay saunas
Sitges beach town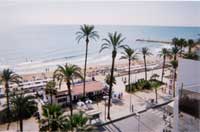 Barcelona has it's own beach, but gay guys from all over Europe come every summer to Sitges, located 40 minutes from Barcelona by train. Sitges is a small beach town but has 2 gay beaches and many bars and clubs that go on all night.
Nighttours gay guide to Sitges
Hotel search
City: Barcelona