Bangkok gay guide
The gay bars, clubs and boys clubs in Bangkok are located close to each other, on side streets next to Silom Road.
gay bars
Silom Soi 4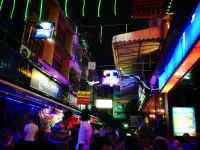 Soi 4 is one of the side streets at Silom Road. Here are several bars and restaurants with terraces outside.
The 2 main popular gay bars are The Balcony and Telephone pub. They are located opposite each other and feature terrace. They both have an extensive food menu. Best time to go is around 9 - 12.
Gay clubs and parties
About 200m away from Soi 2 is Silom Soi 4. This small alley houses the most popular gay club of Bangkok, DJ Station . At the entrance of the alley there is a coat check and a security check. Local people have to show their ID, they usually don't ask this for tourists. In Soi 2 are several other smaller bars located on the ground floor.
DJ Station gets busy around 23.30 and is very full in the weekend, music mostly popular dance songs.
The other dance club close by is G.O.D (Guys On Display). This one gets busy later from around 2 with more tourists.
Boys street
100 meter up north is the street with many boys clubs and bars. It's a side street of Surawong Road, and hard to miss with all the boys club neon signs.
Beside the boys clubs and massage clubs you will find several outside (normal) terraces, with a nice view what is going on outside the boys clubs and massage clubs.
The boys clubs often don't have an entrance fee, you just have to buy a drink. On stage you find local boys, all wearing tiny underwear with a number. You can ask for one to sit next to you, then you have to buy him a drink.
Several times a night there is a live show, with real action. It is funny to see how the audience react, some are shocked, some get very excited, and some seem to come every day.
Gay sauna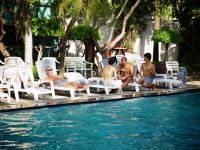 The main gay sauna is The Babylon Bangkok. This is one of the greatest gay saunas / gay bath houses in the world. It gets going from 15:00 in the afternoon. There is a garden with outdoor pool, bar with terrace, large restaurant and many many cabins. Early afternoon a large part of the cruising area remains closed, later they open more parts. Many guys stay for dinner as well.
Where to stay
Best part to stay is close to Silom Road, near the gay places. At night you can walk back to your hotel. Taxis are very cheap, but often at night they don't put on the meter and ask many times more the normal price. This area is also very central, the sky trains has a station here.
hotels in Bangkok
Hotel search
City: Bangkok