Gay Antalya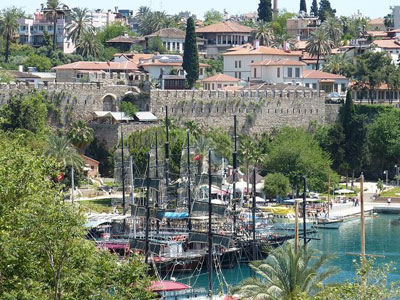 Antalya is a city on the Mediterranean coast of south western Turkey. It is Turkey's biggest international sea resort, located on the Turkish Riviera.
Antalya was is one of the world's third most visited cities by number of international arrivals. So we decided to include it on Nighttours.
If you have info on gay night life please contact us.
Hotels and apartments
Hotel search
hotels, B&Bs and apartments
Featured hotel
Eski Lara Yolu Sirinyali Mah. 1512 Sk.
,
Antalya
4 star hotel, 77 rooms, 1356 reviews, score 7.3
Located in the coastal Lara district, Bilem High Class Hotel is only a few steps from the blue waters of Mediterranean Sea.
Help us by adding gay (minded) places
add here
Reviews by visitors
No reviews yet. Please be the first to write one!
write a review
Hotels in Antalya
Visit our Antalya hotel page for information on where to stay. You can also try our online Antalya hotel map to see and book hotels near the gay venues. Please book via the links on this website thanks!
where to stay
hotel map Antalya
Cities nearby